ALL FOR ONE SANDWICH
IT ALL STARTS WITH PASSION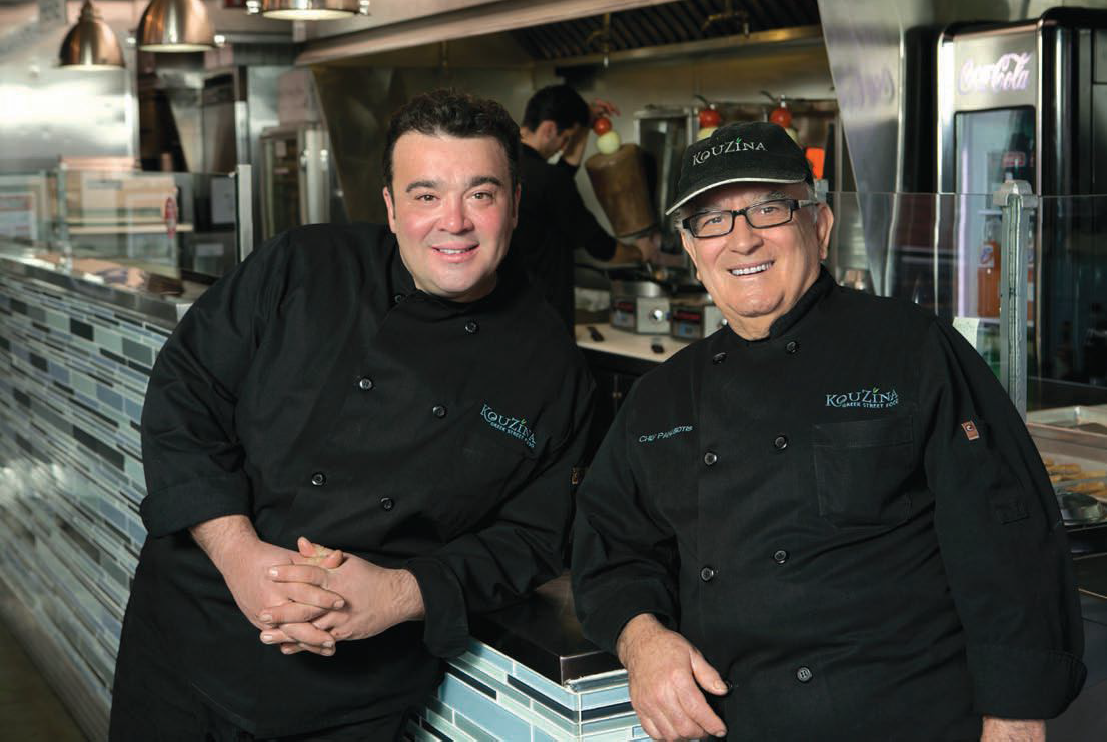 STREET FOOD EXPERIENCE LIKE NO OTHERWhile Bobby Laskaris is the owner of Kouzina Greek Street
Food in Royal Oak, he gives all the credit for the amazing cuisine
to his 75-year-old father, Chef Panagiotis Laskaris. Retired for
nearly a decade from various restaurants in Greektown, where he
worked during the neighborhood's golden age, the elder Laskaris
returned to the kitchen in October 2012 to help Bobby in what
has become a very popular place for Greek cuisine.
"We just celebrated our first anniversary and it has been
amazing," Bobby says. "Our idea was to keep it simple, keep it
fresh. That's what people like."
Winning the Best Entrée Award at Arts, Beats & Eats even
before it opened last year helped raise the level of excitement
for Kouzina's grand opening, and critics have been kind to this
unique establishment. Kouzina, which means kitchen in Greek,
is a place where art, food, and a neighborhood atmosphere unite.
The food is fast, the staff is friendly, and there isn't a microwave
or freezer in sight. "Everything is about simplicity and freshness.
We have a deep passion for our food," Bobby adds.
Each day, a chef 's special is prepared by Panagiotis, who draws on
his years of expertise in creating unique entrees. The menu consists
of a variety of gyros (traditional pork, lamb and beef, chicken),
Chefs Bobby and Panagiotis Laskaris
gyros bowls, and Greek salads. Kouzina makes its own fresh
pitas in three varieties: traditional white, multigrain, and glutenfree.
Brown rice and gluten-free soups are also available, as are
fresh-cut fries topped with feta cheese and oregano straight from
Greece for those seeking a revolutionary flavor.
While Panagiotis honed his craft in the bustling years of
Greektown, Bobby knows all about simplicity and street food.
For years, he sold gyros at major events including the Montreux
Detroit jazz festivals; the Comerica TasteFest; Arts, Beats &
Eats; and the Grand Prix. From there, his business grew and he
began doing business in larger venues including Ford Field, the
Silverdome, and Cobo Hall. Today, he has customers from all over
the Detroit area coming to Kouzina for authentic Greek fast food.
"The best moment I've had opening this restaurant was working
right next to the chef, my father," Bobby says.